Poésie Noire - December 21st 1991 - Jeugdclub Ten Goudberge
---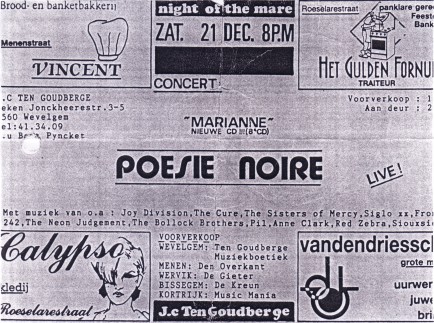 Comment of Wouter Berteloot, Poésie Noire fan:
"I was planning to attend it but couldn't go in the end. (...)
From what I heard afterwards things went really bad that
night: there was a lot of trouble in the band: the gig had to
start very late because some members didn't show up
(the females to be more precise).
They had to do the gig without them. The band split up
shortly after that. It might even have been their last gig ever."
This gig was organized by Kurt Vanhollebeke.
---
| | |
| --- | --- |
| by Patrik Kruse & David Hulet, ticket provided by Nathan Lobbestael. | 30/04/2007 |
| | |