Belgian New Beat
---
(Assembled w/original text by John MacMaster)
---
Intro To New Beat....

New Beat is the music that ruled the dancefloors of Belgium during the period of 1988-89, and produced a number of classic tracks which reached alternative dance clubs world wide. New Beat is unquestionably one of the most exciting developments in the history of electronic dance music; however, aside from certain DJ's and die-hard followers, most of this music remains totally unknown. This is a situation we would very much like to change, for when it comes to originality, atmosphere, and just plain butt-kicking impact, this stuff blows away a lot of the music of the moment.....
---

Part of what makes New Beat so interesting is that it has no one distinct style, except where the beat itself is concerned. The predominant feature of New Beat is the slow, heavy, mechanical beat which averages about 110 beats-per-minute and often is much slower, especially in the early days of New Beat. This effect was often achieved by taking normally fast 45 RPM records and slowing them way down on the turntable. The content of the music varied wildly between different New Beat artists, but most tracks feature at least minimal vocals or vocal samples, which usually tended to be rather odd or tongue-in-cheek, sometimes even downright silly (although the purists among New Beat DJ's would play only the instrumental tracks).

The New Beat sound fuses together influences from many other types of music over its rhythms, including '80's technopop and cold wave, industrial, disco, world music, and later adding acid house and rave as well. As one might imagine this resulted in quite a variety of unique records. Some tracks could be very moody and dark, and many could also take a very playful and trippy approach to it. At its best, New Beat will hit you with a combination of solid, chugging beats and powerful (if somewhat strange) hooks that can become addictive, and also radiate a feeling of cold sensuality which in itself is very appealing.
---

Most of the early New Beat, and much of the best material that followed, came from two different threesomes of Belgian producer/artists on two separate (but connected) record labels -- the MSB (Morton-Sherman-Bellucci) team on Subway Records (which later became Subway Dance and then Dance Opera) and the trio of Praga Khan, Chris Inger (later replaced by Oliver Adams) and the very lovely and talented Jade 4U, who were responsible for much of the output on Kaos Records (also Beat Box International). Tracing the entire recording history of these people would be quite a chore however, since New Beat artists recorded their projects under a large array of different names. (SYNTHESIS may attempt this task someday, but anyone who feels equipped to undertake this mission on our behalf is more than encouraged to do so! In the meantime, don't worry because we've still got a lot of info for you in this file...)

The first significant spin-off genre of New Beat was a phenomenon known as Acid New Beat, a peculiar variation of the acid house sound in which the squiggly sounds and house beats were mutated into a harder, crunchier acid noise over a tough, cold New Beat rhythm. This was the domain of the Kaos label. As the hardness of the music increased and the acid content started to decrease it came to be known by a new name - Hardbeat. Another hybrid form emerged as rave music came to have an influence on the scene, turning it much further away from its roots with faster tempos and a more fluid techno sound. This collision of rave and New Beat was given the name Skizzo (a pun on the word "schizoid"!).

At this time New Beat was moving back into the underground in Belgium, and people in the scene stopped using the term altogether as rave-oriented sounds became the new frontier to explore. As it began to fall by the wayside New Beat was declared dead, and Belgian Rave was born. The overwhelming majority of New Beat products received little or no marketing in other countries, but carried along by the media juggernaut of rave culture Belgian techno finally made a huge impact on the dance scene all over the world, even though most people hearing it had no idea where it actually came from or of the interesting legacy of music that came before it. The Khan-Adams-Jade 4U axis have continued to be a dominating force, including further work with their pioneering New Beat project Lords Of Acid (whose second album bears an uncanny resemblance to My Life With The Thrill Kill Kult!). The once prolific MSB seem sadly to have disappeared from the music scene completely, however. Belgian techno definitely still rules(!) but it's unfortunate that things have gone so wholeheartedly in this one direction, for they really had something unique and important in the dance scene with New Beat. Due to its eclectic and sometimes unserious nature, and the fickle trendiness that afflicts rave and club culture in general, it's unlikely that these sounds will be making a big comeback; however, all you "alternative" DJ's out there should still be taking note of this stuff -- it's up to you to keep the underground alive! If the '80's revival we're starting to hear about ever fully materializes, then maybe New Beat will have its chance to shine once again....
Up next is an excellent article from the September 1988 issue of "i-D Magazine" from England. As it probably was for many people, this was my first introduction to New Beat.
The New Beat of Belgium

by Matthew Collin

Click here to see article
---
.
(Liner notes from "Hard Beat 1st Compilation" LP. Text by Jade 4U.)

Winter '89 a new style of heavy dance music rapidly spreads across Europe. They call it Hardbeat. It sounds strange but everywhere it generates the same reaction, delirious dancefloors. The leading company promoting is 'Complete Kaos Records'.
Arguably there's no other record label boss who stamped his own mark on his product as much as Maurice Engelen has on 'Complete Kaos'. Every record bears it's hallmark.
Complete Kaos' effect was incredible on the Belgian dancefloors. Hardbeat is the perfect link between Electronic Body music and New Beat. More and more clubs are turning into Hardbeat sound with it's hard industrial beats.
---

Bart Declercq, and Idriz Jossa, two last year students from the Royal Academy Of Fine Arts of Antwerp, started with New Beat Fashion a collection giving response to the request of kids within the New Beat music scene.

They started designing clothes for bands such as Erotic Dissidents, Taste Of Sugar and Poesie Noire and were motivated to make something special because of a changing mentality within the Belgian fashion world of consumers. Until now their collection has been very successful both in Belgium and Europe.

Their clothes are manufactured out of new elastic (Belgian) materials and are sold together with a black plastic case with the words "New Beat Fashion" on it. They wanted to get away from the traditional VW and Mercedes buttons and made new ones from photos of old people: they are printed on the New Beat clothes and on buttons (for the summer collection of 1989). .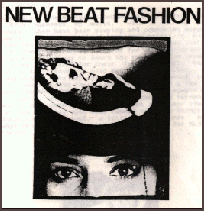 ---
International New Beat Hits:
Amnesia - Ibiza
Confetti's - Sound of C
Dirty Harry - D Bop
Edwards & Armani - Acid Drill
Erotic Dissidents - Move Your Ass And Feel the Beat
Lords Of Acid - I Sit On Acid
101 - Rock To The Beat
Plaza - Yo Yo
Plaza - O Oh
Rhythm Device - Acid Rock
Tragic Error - Klatche In Die Hande
Technopop-Oriented New Beat:
(most New Beat Falls at least partially into this category, but these songs particularly so.....)
Airplane Crashers - I Have A dream
Beat Professor - Beat Professor
Cold Sensation - Belgian Music Train
D.J. Gang - Dance Slow
High Tention - High Tention
Jade 4U - Rock It To The Bone
Snowy Red featuring Carol - Breakdown
Taste Of Sugar - I Just Can't Get Enough
Cold Wave/Gothic New Beat:
Jade 4U - Jade's Dream LP
Mircro X - Red Velvet
No More Ecstacy - God Is Dead
Public Relations - New Beat Mind
Shakti - Forbidden Dreams
Snowy Red - The Long Run
Industrial New Beat:
(see also Hard beat)
A Split Second - Flesh (New Beat Version)
Balearic Beach - Balearic Beach
Little Little - Locked in Love
Mr. Horse - Crisis Situation
Snowy Red - It's So Good
Disco New Beat:
Electric Shock - Don't Talk about Sex (12" Vocal Mix)
Erotic Dissidents - Move Your Ass and Feel The Beat
Erotic Dissidents - Shake Your Hips
J.E.T - Love Jet
Super Nova - B.C.L.D
TNT Clan - Blow up The DJ
World Music New Beat:
Dance Macabre - Spirit Of Bulgaria
Explorers Of The Nile - We Are All Egyptians
Opium Monks - Secrets Of Africa
Secrets Of China - Chinese Ways
Acid New Beat:
Amnesia - Hysteria LP
Big Bang! - Acid Radio
Boy Toy - Touch My Body
Ecstacy Club - Jesus Loves The Acid
Edwards & Armani - Acid Drill
Lords Of Acid - I Sit On Acid
Major Problem - Acid Queen
Miss Nude - Taste My Acid Fruit
Nasty Thoughts - Acid Sex
101 - Rock To The Beat
Tribe 22 - Acid-New Beat
Zsa Zsa Laboum - Something Scary
Hard Beat:
Agaric - I'm Gonna Beat Dis
King George - Saigon Nightmare
Lords Of Acid - I Sit On Acid
Major Problems - I Still Have A Dream
Miss Nicky Trax - Hooked On You
Nasty Thoughts - Rock The House
The Project - Kick The House
Rhythm Device - Acid Rock
Skizzo:
Angel Ice - Je N'Aime Que Toi
Major Problem - Do The Skizzo
Oliver Adams - Skizzo Terror
Ravebusters - Mitrax
Trance Trax - Odd Flute
Belgian Rave:
Channel X - Rave The Rhythm
DJPC - Insomniak
Praga Khan - Free Your Body (Injected With A Poison)
Lords Of Acid - Rough Sex
Quadrophonia - Quadrophonia
T99 - Anasthasia
---
---
New Beat Compilation Albums:
(see our Compilation Albums info file for exact track listings for most of these albums!)
A.B. Sounds : New Beat Take 1
A.B. Sounds : New Beat Take 2
A.B. Sounds : New Beat Take 3
A.B. Sounds : New Beat Take 4
A.B. Sounds : New Beat Take 5
About New Beat
Belgian Beat 1st Six Pack
New Beat : A Belgian Dance Relolution
New Beat Video Hits (VIDEO)
Roger Records New Beat Compilation
Who's That Compilation
Acid New Beat:
Acid House Music: 'New Beat' (France import of "This is Acid New Beat")
Subway's New Acid House Techno Beat Compilation
This is Acid New beat
Hard Beat:
Hard Beat 1st Compilation (also has lots of Acid New Beat)
Hard Beat 2nd Compilation
Hard Beat 3rd Compilation (also has lots of Skizzo)
Hard Beat 4th Compilation (also has Lots of Skizzo)
Skizzo:
A.B Sounds : Take 7-Skizzo
Ttechno Mania : The New Continental Sound
Belgian Rave:
Serious beats Vol.1-4 (later volumes are increasingly international in scope, but still very good)
Techno Sonic
Technorave 3
XL : The 2nd Chapter

The most popular New beat compilations are the "A.B. Sounds : New Beat " series and are an excellent introduction to this music except for the matter of the unfortunate "Take 6" album, which has very little to do with New Beat (except for a few tracks, this is largely a collection of italo-house hits (!) -- Ye gods!! What were they thinking?? O.K., so "Take 5" had a few commercial cuts on it.... but it was still a very relevant album overall. The music on "Take 6" though, while actually not bad for what it is, (most of it) definitely doesn't belong as part of this series - no way!! Oh well.... at least they woke up in time for "Take 7"!). As with The "Hard Beat Compilation" series, the vinyl versions contain shorter mixes than the CD's. Also very interesting is the double vinyl "About New Beat" which gives you 45RPM pressings of songs you can pitch-shift downward (on a club-quality turntable) just like the original New Beat DJ's used to do!
Up next is another interesting magazine feature, this time from the December 3rd 1988 issue of England's New Musical Express, plus an NME album review of "A.B. Sounds : New Beat Take 1". Enjoy!
One Nation Under A (Slowed Down) Groove

by Richard Noise
(aka Richard Norris of The Grid!)

Click here to see article
---
---
---
---

And now, to conclude this file we offer you one last item, which is a Discography of
the Subway and Kaos record labels (plus a few related items). Enjoy!!
---
---
If you have any general comments, or information to add, pertaining to this info file or New Beat in general, then we'd really like to hear from you.

Also, if you have New Beat records for sale in good condition for an affordable price, please let us know.....especially if you have the 12" singles of Jade 4U's "The Early Train" and "Messenger Of Love", or "Zeitgeist" by Berliner Meistershaft.....
SYNTHESIS: Electronic Dance Music Page

(megalon75@hotmail.com)
---
---

Click here to go to New Beat menu page:

Click here to return to main menu:
---